On last times, I've been thinking about of problem with the memory consumption of the Desktop versions of Ubuntu. For more settings I did, the memory was always at the maximum. After some reading I decided to try applying a graphical environment on the pure version of Ubuntu Server.
First install a Ubuntu Server OS on your machine….
After that your Ubuntu server has been installed, now we'll install and config all graphic apps, starting with Gnome-shell, a base package.
sudo

apt

-

get

install

gnome

-

shell
Yes, we have a base graphical interface, now go to secondary packages of Gnome.
sudo

apt

-

get

install

gnome

-

shell

-

extensions

gnome

-

tweak

-

tool

gnome

-

terminal

file

-

roller
Ok, all basics packages has been installed, now we can start the 'X'.
By default, gdm service it's automatically added to update-rc.d, however if him doesn't start, use this command:
sudo

update

-

rc

.d

install

gdm

defaults
On my laptop I was needed change services startup order on boot, because the network interfaces forcing up and made boot very slowly. To solve this problem, I was used the sysv-rc-conf to change start service order. You can install this package with command below:
sudo

aptitude

install

sysv

-

rc

-

conf
Tip: to install this package use the aptitude manager, because many times the apt-get lose himself ¬¬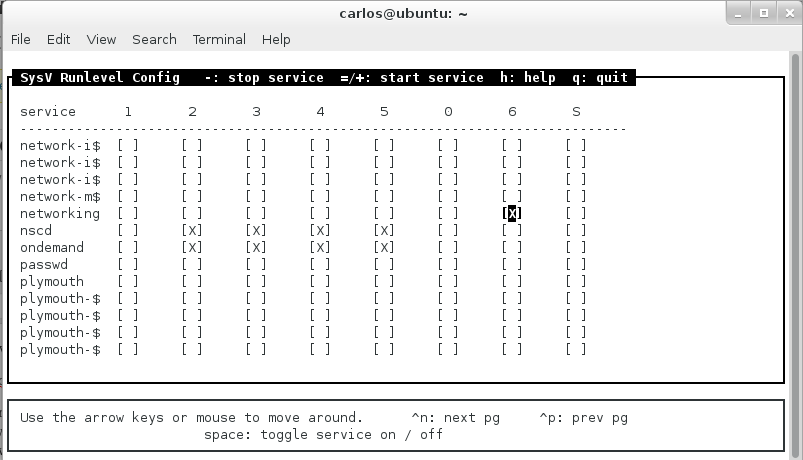 Proceeding…if you it's not a VI or VIM fanatic, you can install an other editor, personally, I like so much GEdit, simple and efficient. To install this:
sudo

apt

-

get

install

gedit
At this point we have a simple Gnome 3, now we can tunning more : )
Now we need install and WEB browser,..yes! Google Chrome! …no :/ at this moment we don't have any browser, so…:
sudo

apt

-

get

install

firefox

flashplugin

-

installer
Well as in MSIE browser…we can download our Google Chrome. Yes! I don't like use Chromiun browser..i don't have reasons, just don't like.
When you'll install the .DEB of Google Chrome browser, you will need install many dependencies, so:
sudo

dpkg

-

i

google

-

chrome

.deb
Eventually you can download zipped files, however you'll need required packages for this:
sudo

apt

-

get

install

p7zip

-

full

rar

unrar
After this, you can customize their mode…image viewer, zipped files viewer…many apps that comes inside ubuntu-desktop package are not including on Gnome 3 base package. I'm recommend some basics apps like (installed by apt-get too):
app-install-data: small Nautilus applet to search apps for unknown file types;
evince: a good and simple PDF viewer;
gthumb: image viewer with resize, convert and other basic image operations;
empathy: a best choice for Gnome Notifications integration;
vlc: a powerful video, audio, etc. player;
file-roller: zipped files viewer and Nautilus applet for compress operations;
Oracle JDK: you can install using steps of my other post here;
gnome-color-chooser: a simple app to manage color schemes. This remember of theme color customize of old Gnome 2;
You'll still can happy using many Gnome extensions here.
Bie.